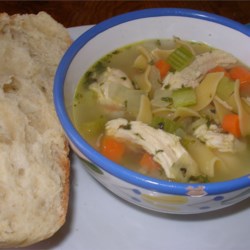 We are still under the weather over here (the reason of lack of postings)
The other night for Dinner I made this
DEVINE
Chicken Noodle Soup
My kids (including the Hubby) Felt almost instantly better. Its that type of soup. Packed FULL of Flavor!
Because I wasn't feeling any better then the rest of the clan I made a couple easy steps to it. Instead of cutting all the veggies I used frozen veggies and I didn't have any egg noodles or the energy to go to the store to get any so I used
Quinoa
(keen-
wah
). It was great! Everyone asked to have it for lunch the next day. My 5 year old told me that this soup is her most favorite ever and that she isn't sick anymore! IT'S A MIRACLE Soup!!!
I also love to freeze the extra broth for another day. Warm it up in a mug and you really do feel better! Thank you to the Chef of this fine Meal!!!
What meal warms you up?